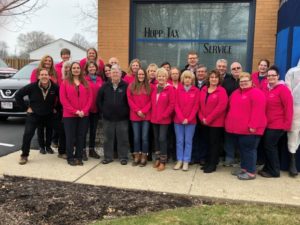 If you are looking to have your income taxes prepared this year, please take a moment to learn about our firm. We offer high-quality tax preparation at a reasonable price.
Our goal is to make tax time as painless as possible for our clients. We aim to provide a friendly, yet professional, experience. We'll answer all your questions about your tax returns.
Whether you want to spend some time exploring tax strategies, or, quickly get the whole thing over with, just let us know.  We'll work to make your experience a good one.  We can't guarantee a big refund, but we can help you get all the deductions and credits you are legally entitled to. We offer appointments, drop-off, or mail-in or upload service, and electronic filing.
Our prices are very competitive and we are open year-round to serve you. Our tax season hours include mornings, evenings and Saturdays to accommodate your schedule.
Hupp Tax Service is conveniently located in Willowick, Ohio on Vine Street.