If you are looking to have your income taxes prepared this year, please take a moment to learn about our firm. We offer high-quality tax preparation at a reasonable price.
Why Choose Hupp Tax?
Friendly
Our goal is to make tax time as painless as possible for our clients. We aim to provide a friendly, yet professional, experience. We'll answer all your questions about your tax returns and ask the questions needed to make sure you get every deduction and credit you are legally allowed.
Flexible
No tax return is too small!
Whether you want to spend some time exploring tax strategies, or, quickly get the whole thing over with, just let us know.  We'll work to make your experience a good one.  We can't guarantee a big refund, but we can help you get all the deductions and credits you are legally entitled to. We offer a variety of options for your convenience: drop-off, mail-in, upload service, or in-person, as well as electronic filing.
Our tax season hours include mornings, evenings and Saturdays to accommodate your schedule. We are open year-round (reduced hours) to handle extensions, letters from the IRS or elsewhere, and any income tax questions you might have.
Fair
Our prices are very competitive (see Pricing) and we are open year-round to serve you. If you are not satisfied with our work for any reason, you are welcome to take your papers and not pay us. We are a leader in the local community and thrive on referrals from satisfied customers.
We stand behind our work. In the rare event we make an error, we will pay any penalties related to our error.
What SERVICES are available?
We specialize in federal, state, and local income tax preparation. Our favorite clients are individuals and families, but we also do a lot of rentals and small businesses (including Limited Liability Companies (LLCs), S Corporations, and partnerships). We can handle trusts and estate income tax returns.  We can also help with letters you may receive from the IRS or other taxing agency (even RITA!).
We offer the following options to get your tax information to us. Choose the method you like best.
Drop-off – any time 24/7
Use our drive thru night drop or secure mailbox right by our front door. Drop off your W2s, other tax documents, and your completed What to Bring TY 2021  (and What to Bring Business TY 2021 if applicable).  Include a good phone number and we will call you when your returns are ready. The turn-around time for drop-offs is typically between 2 – 10 days during tax season.
Mail-in / Fax / Upload
Mail, fax or upload your tax documents and the What to Bring TY 2021 (and What to Bring Business TY 2021 if applicable).  We will call with any questions and let you know when your taxes are completed. You can pick them up in person (drive thru, or lock box), or we can deliver them to you via Priority Mail or secure email.
Appointment
A face to face meeting where our tax preparer typically completes your returns during the appointment (if all information is available), usually within an hour. In-person appointments are back on the schedule in 2022!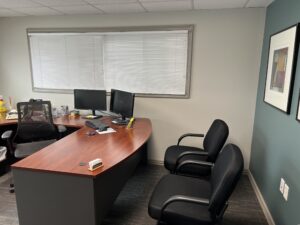 Hupp Tax Service is located in Willowick, Ohio on Vine Street.
GET STARTED

It's easy! Get your documents to us and we'll prepare your tax returns. No tax return is too small. Various options are available for your convenience, such as drop-off in person or electronic delivery. Use our What to Bring TY 2021 checklist to make sure you have everything.
We are offering in-person appointments again in 2022 for those who want them. Please call our office to schedule.
If you prefer to drop off, follow these easy steps:
Get your tax documents to us. You have several options: drop off in person using our new drive thru or drop box; mail-in; or upload.
We will contact you with check-in questions, and again when the taxes are prepared.
Completed tax returns can be picked up in person, snail mail or securely e-mailed to you.
You will have action items in your folder. This could be your city tax return, payments due, etc.
Once we receive your signatures and payment for our services, we will e-file.
With this type of remote interaction, we want to assure you that our staff is available to answer any and all questions you might have.